Tsunami warnings have been issued for New Zealand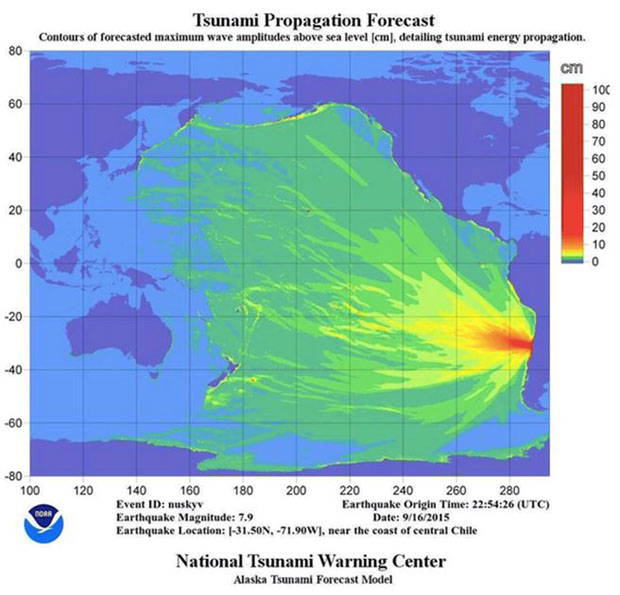 Following a powerful magnitude-8.3 earthquake that shook Chile's capital Santiago, today causing buildings to sway and people to take refuge in the streets.  Aftershocks above magnitude-6 have followed with other strong shakes rattle the region as tsunami alarms sounded in the port of Valparaiso in the first major quake since a powerful quake and tsunami killed hundreds in 2010 and levelled part of a southern Chilean city.
The strongest earthquake ever recorded on Earth happened in Chile – a magnitude-9.5 tremor in 1960 that killed more than 5,000 people.
On this occasion there were no immediate reports of injuries, but authorities said some adobe houses have collapsed in the inland city of Illapel, about 280 kilometres north of Santiago. Officials have ordered people to evacuate low-lying areas along the 3,900 kilometers of Chile's Pacific shore, from Puerto Aysen in the south to Arica in the north. Cars streamed inland carrying people to higher ground.
Tsunami warning for NZ
The Ministry of Civil Defence has issued a tsunami warning for East Cape, Chatham Islands, Coromandel and Banks Peninsula.
In the Coromandel Peninsula, Mercury Bay Area School had evacuated and teachers and students had moved to Moewai Park, where they'd spend the rest of the school day.
The NZ Herald reported, Principal John Wright told NZME News Service it was better to be cautious than careless.
"We've got 1000 people on site. So if we get the alert…then we act. It may well be not necessary, but that's okay."
It was not clear yet if the school would be open tomorrow.
Mr Wright said was the fourth evacuation in three years but previous evacuations were trials and today's was the first in response to a specific tsunami threat.
People in the affected coastal areas should stay out of the water, off beaches, and listen to the radio for updates, civil defence said.
The tsunami warning would remain in effect until a cancellation message was issued.
"This warning has been issued to all local civil defence authorities, emergency services, other agencies and media," civil defence said.
"Local civil defence authorities will interpret this information for their areas and advise public action via local radio stations."
If the waves reached New Zealand, they are expected to first hit Gisborne about 12.15am.
A manager at an apartment block on Gisborne's marina was not aware of the tsunami warning.
However she says all residents will be made aware of the warning and of the buildings appropriate emergency and evacuation procedures when they returned home from work later this evening.
Another manager at the Beachside Resort Whitianga says he's aware of the risk and will be alert to further updates.
He says a call will be made to move guests away from the beach-side as needed.
The manager admits Whitianga is "a bit exposed" but says he wasn't too concerned at present.
He says he'll be talking to locals and keeping up to date with any new information around the tsunami risk.
A Whitianga man says he's just been alerted to the tsunami warning via a text from his son's school.
He says the school, Mercury Bay Area School, advised him of the earthquake in Chile and mentioned they'd be evacuating the school to the rugby field.
The man who also runs a beachside motel in Whitianga says he's going to establish exactly what's happening before he makes any call to evacuate.
Hamish Glendinning told the Herald the quake lasted about one minute and there had already been one aftershock.
Glendinning is a Kiwi who has been living in London. He has been skiing in Chile before he heads to Columbia and Central America until early December when he plans to return to New Zealand.
" We are in Santiago travelling but were in Valparaiso last week. No power outages in the capital."
He says the hostel in Bellavista, Santiago, where he was staying with his girlfriend shook.
"The hostel was not shaking violently…however it went on for a long time," he says. "Everything was swaying, we made an escape outdoors where we were safe as we weren't too sure how sturdy our accommodation was."
Hamish says while most people are calm, it's unclear the full extent of the damage.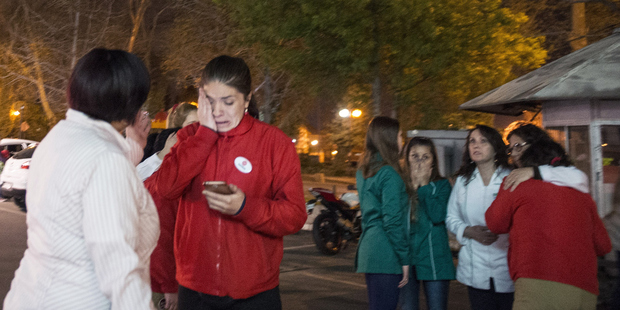 Guy Hodges was with his wife and 5-year-old boy in Santiago when the quake struck.
"Quake shook us for over a minute had us taking shelter in the doorway. It was long and had our apartment building creaking. There have been at least 5 after shocks, 1 strong enough to scramble for the door again. Wasn't as bad as the 2010 shake which I went through in Santiago as well with my then pregnant wife. This time round, there doesn't seem to be any damage round the city and no major injuries. The cities on the coast have been put on tsunami alert."
An earthquake-prone country
The U.S. Geological Survey initially reported the quake at a preliminary magnitude of 7.9 but quickly revised the reading upward to 8.3. U.S. officials said the quake struck just offshore in the Pacific at 7:54 p.m. (6:54 p.m. EDT, 1154 GMT) and was centered about 228 kilometres north-northwest of Santiago. It said the quake was 5 kilometres below the surface.
A magnitude-8.8 quake and ensuing tsunami in central Chile in 2010 killed more than 500 people, destroyed 220,000 homes, and washed away docks, riverfronts and seaside resorts. That quake released so much energy, it actually it shortened the Earth's day by a fraction of a second by changing the planet's rotation.
The quake has huge ramifications, both political and practical, prompting the Andean nation to improve its alert systems for both quakes and tsunamis.
Chile is one of the world's most earthquake-prone countries because just off the coast, the Nazca tectonic plate plunges beneath the South American plate, pushing the towering Andes cordillera to ever-higher altitudes.
– AP with additional reporting from NZME News Service
What about our Pacific neighbours especially the low lying Pacific Island nations already under threat of rising seas levels.